16 Ways an Energy Efficient Hot Tub Makes Every Day Better
Motorcycle, jet ski and jet boat lover, Lou thrived on the twin thrills of speed and danger. One day a catastrophic motorcycle accident broke his femur into 47 pieces and nearly tore his foot off. Today, 37 years later, he still experiences pain after working at his job or on his home, but manages to stay active and upbeat with daily hot tub soaks.
Lou explains, "The only way I can pull the plug on all the pain is to sit in the hot tub, and everything just melts away." A fifteen-minute soak gets him back to his active self.
Here is our list of 16 ways that an energy efficient hot tub makes every day better
Lou is one of millions of owners who swear by hot tub health benefits to physical and emotional health, family relationships and self-care. Pain relief is just one of the ways a personal hot tub makes every day better. Energy-efficient hot tubs from Hot Spring® are an earth-conscious source of connection, relaxation and wellness. If you are thinking about buying a hot tub, read on.
Hot tubs provide many personal benefits. The hot tub creates an inviting space for:
Quality Relationship time. In today's fast-paced world, distance can grow between family members, as each pursues different career and hobby goals. At the same time, we know that significant, positive social relationships underlie physical and mental health. The hot tub creates a safe, inviting space for relaxed interaction with the people who matter most to you.
Personal "Me" time. As important as relationships are, so too is a daily chance to center oneself and make sense of a chaotic day. Your body will feel weightlessness in the water as the burdens of the day are lifted from your mind. A centered, calm you makes a much better spouse, parent and friend!
Quality Family and kids time. If you struggle to find ways to spend pleasant, device-free time with your kids, you're not alone. In a recent poll of 1,250 teens and their parents, 50% of teens report feeling addicted to their smartphones. Teens can understandably feel frustrated, too, when parents spend too much time on laptops and phones for work-related reasons. Even the most phone-dependent people probably won't risk their phone near swirling waters and the flailing limbs of siblings. Our owners consistently report feeling pleasantly surprised at having more opportunity to engage in meaningful conversation and relaxation.
Time in nature. Fresh wind on your face. Warm sun on your skin. Too many of us miss these things. The hot tub gets you outside. Time outside restores us. Who knows what you'll see from your hot tub: shooting stars, a swooping owl. Even gazing at a backyard flower for twenty minutes can spark a sense of wonder.
Improved circulation. Warm water raises body temperature, which dilates blood vessels and allows blood to flow more easily. The warm water also helps the heart beat more steadily.
Better sleep. Millions of Americans struggle to sleep. The hot tub makes a great sleep aid because of its ability to improve circulation (see above). A strong steady heartbeat helps slow breathing and lower stress hormones. This is the relaxation response.
Pain relief. Many doctors prescribe hot tubs to those suffering from chronic pain from arthritis, fibromyalgia, sports injuries and muscle strain. The hot tub's ability to increase circulation and buoyancy relaxes muscles, relieves disk compression in the spinal column and reduces inflammation in joints. See Lou's story above!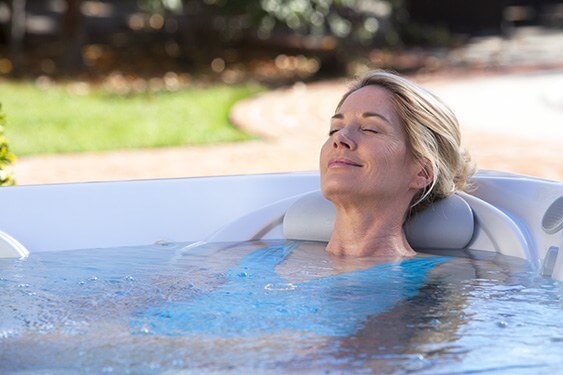 Stress relief. The relaxation response works wonders on the racing or raging thoughts in one's head. Hot Spring owners tell us that huge problems diminish in size after time spent soaking in warm water. People prone to tension headaches can benefit from relaxation techniques like guided imagery and massage, and the hot tub is a great environment for those activities!
Lower blood pressure. Warm water increases blood flow. The veins dilate, improving circulation. Quickly, the increased power of the heart is off-set by vein dilation, equalizing and lowering blood pressure. World-class clinics commonly use warm water hydrotherapy with patients exhibiting life-threatening high blood pressure.
How much electricity does a hot tub use per month?
High-Efficiency Hot Tub Jets. WaveMaster® dedicated jet pumps only activate when you need them. The SmartJet® system lets you send power only to the jets you're using, saving horsepower and energy.
Energy Efficient Hot Tub Heaters. Hot Spring hot tub heaters maximize efficient transfer of heat to the water.
Highly Energy Efficient Pump shroud. The Hot Spring pump shroud transfers heat from the equipment compartment to the water, minimizing cooling and hot tub energy consumption.
LED Hot Tub Lighting. Hot Spring dimmer-controlled LED lights use less energy than a standard light bulb.
Hot Spring award-winning energy-efficient hot tubs are so good at retaining heat you won't need to adjust your spa temperature down when it's not in use. In fact, maintaining heat uses less energy than bringing cold water up to temperature, so for the lowest energy consumption, select your preferred temperature and leave it.
If you've considered a hot tub of your own, the research-backed benefits of hot tubs should give you the rational firepower to convince yourself and perhaps a spouse. You deserve it. Find out how affordable a hot tub near you can be.